Cogswell Family Association
A non-profit corporation, organized in Mass., in 1989, dedicated to preserving the history of the Cogswell family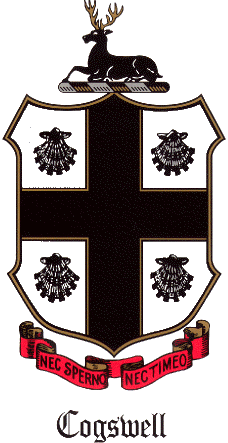 Interested in purchasing your very own copy of the "OFFICIAL" Cogswell Family Coat-of-Arms?
Click here
You can also join us through PayPal. Select the
member type you want and then click "Buy Now"
Dear CFA Members and Friends,
NEWS FLASH:
The COGSWELL FAMILY ASSOCIATION is working on a new version of "The Descendants of John Cogswell: by Donald J.
Cogswell. The database is now CLOSED for any changes. Don is very busy prepping the database for the compilation of a new book, which will take several months. He appreciates all the contributions each of you have made to making this the most comprehensive gathering of Cogswell Family data.
Don IS still accepting pictures for the new book, please send them to: cfa-new-book-project [at] cogswellfamily.org
We sincerly hope that you enjoy your visit to our Cogswell Family website. Come visit us often as we update information on a quarterly basis.